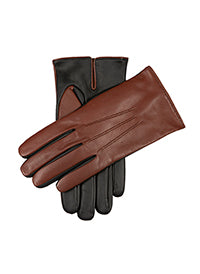 Make a statement with Dent's luxury Penrhyn gloves. Featuring a two color design and a luxury cashmere lining, these gloves are the perfect pair for those looking to add a colorful twist to the classic glove. 
Made in England
Touchscreen leather palm
Contrast color palm, welt and palm vent
Lined with the finest Scottish cashmere in a contrasting color
Touchscreen Hairsheep Leather
Developed to allow you to use touchscreen devices this leather is also favored for its natural strength and elasticity. The sheep that provides the leather grows hair, not wool, hence its name. The fine hair leaves no markings resulting in smooth leather. Hairsheep leather is generally acknowledged as the best leather for gloves. Durable and supple, this is an excellent choice for lasting comfort.
Cashmere
A luxury natural fibre, from the hair of mountain goats, which is superbly soft, warm and lightweight.